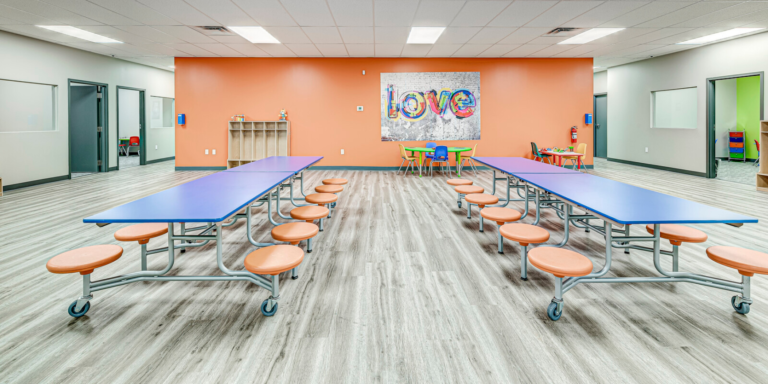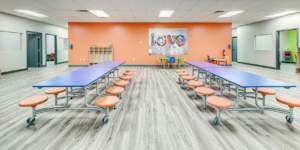 Our families at Circle City ABA are consistently happy with the community at our state-of-the-art autism centers-and it shows. Here are a few reasons to schedule a tour of one of our Circle City ABA centers.
While the beginning stages of getting an autism diagnosis can be daunting, nothing can compare to the feeling of finally finding resources for your child. Whether finding an ABA center without a waitlist or meeting a fellow parent who knows your struggles, we're excited to support our future families with a center close to home that your whole family will love.
Continue reading to see what you can look forward to that will show Circle City ABA is an excellent fit for your child.
Our centers are vibrant and eye-catching!

 Every room and space is unique. We designed our state-of-the-art autism centers with your child in mind. Children can change their environment and learning space each day with the variety we offer.

We have large spaces for lots of opportunities!

 Your child has room to grow at Circle City ABA.

Our staff is warm and welcoming!

 Our therapists and Behavior Analysts love the work they do! They fearlessly dedicate themselves to each child they work with at Circle City ABA.

The sensory gym is a child's paradise! Ball pits, trampolines, and rock walls, oh my! Circle City ABA's sensory gym is a destination where play meets progress.
We created our game rooms for teens to unwind. Some days you want to kick back and play Mario Kart! At Circle City ABA, we are ready for many teenagers and fully equipped with an air hockey table, basketball, and a Nintendo Switch.
Our lunchroom and common social area bring us together! Children and therapists gather here to eat lunch, socialize, and work on life skills! Our therapists' favorite multi-purpose area is our lunchroom because so much growth occurs here.
We are a family-oriented company! Circle City ABA is family-owned and operated ABA Therapy company that is dedicated not only to providing the best services but to providing them with passion and love. Our centers are bustling with family members and staff daily, united in their mission to bring children and families the best care available. Circle City ABA's dedicated team puts heart into everything we do, ensuring that each family receives the attention, care, and support they need along their journey. We strive to provide every family feels heard, respected, and supported in their search for a better future.
We know first-hand what your mission is for your child! So, Circle City ABA invites you to join us on the journey. We understand that caring for children with autism also means caring about their families – so we provide full-family education and support from day one. You're an active and involved part of the process. That means we're here to walk you through our actions and why. We share in your child's wins and are always available to answer questions, discuss concerns, or workshop solutions to problems together. Are you ready to tour a Circle City ABA center? Find a location near you and contact us today to start your journey with Circle City ABA!