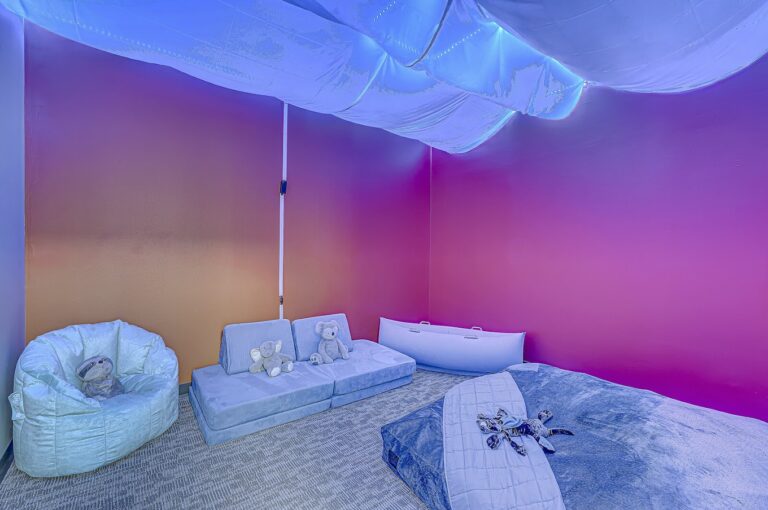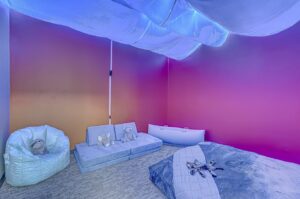 As a parent of a child with autism, you know that sensory rooms can be an essential tool in your child's development. Circle City ABA profoundly emphasizes understanding the significance of sensory activities for children with autism. We recognize that sensory experiences play a pivotal role in the lives of individuals on the autism spectrum, impacting their daily routines and emotional well-being. By integrating sensory activities into our therapy programs, Circle City ABA aims to create a supportive and inclusive environment and strives to help children with autism develop essential sensory processing skills. Sensory rooms provide a safe and calming space where children with sensory processing issues can regulate their emotions and promote learning.
This blog will discuss sensory exploration and some activities that feature sensory rooms in Indiana and how they can benefit your child's development in addition to ABA therapy.
Sensory Exploration
Sensory exploration activities are an excellent way to introduce your child to their sensory room. Sensory exploration involves exposing your child to different sensations, such as textures, smells, and sounds. This can be accomplished in a sensory room by using toys like fidget spinners and sand trays to enable your child to explore different textures. You can also use bubble machines and calming music to stimulate your child's senses.
Sensory Integration
Sensory integration activities are designed to promote the integration of sensory input and facilitate the ability to regulate emotions and monitor one's environment. Activities focusing on rough-and-tumble play, such as a ball pit or trampoline, can help your child develop gross motor skills and improve body awareness. Consider incorporating soothing scents like lavender to promote relaxation.
Fine Motor Activities
Fine motor skills are crucial for children, particularly those with autism. Fine motor activities such as finger painting and using tweezers to pick up small objects can help develop fine motor skills. You can also turn a sensory room into a "quiet space" by providing coloring books, puzzles, and other quiet activities.
Sensory Circuit Training
Sensory circuit training is a technique used to help children with sensory processing difficulties regulate their emotions and learn how to monitor their environment. Sensory circuit training involves specific exercises that stimulate different parts of the brain. One common technique is called deep pressure therapy. This technique applies pressure to particular body areas and can be achieved through weighted blankets, hug vests, or even body socks.
Music Therapy
Music is a potent tool for children with autism. Music can provide sensory input, help with relaxation, and improve communication skills. Providing multiple instruments can incorporate A musical element into your child's sensory room. These can include drums, shakers, and chimes. Consider playing soft music to soothe your child and create a calming atmosphere.
Indiana Sensory Activities 
Smiley – Indianapolis & Mishawaka
Smiley is an indoor playground for children aged ten and under. They offer many attractions and arcades, a large selection of food, and non-alcoholic beverages. They offer Sesory days the first Saturday of every month starting October 7, 2023. 
Urban Air Adventure Park – Noblesville
The Ultimate Indoor Adventure Park is where kids of all ages (and kids at heart) can explore thrilling attractions, challenge their bodies and minds, and, most importantly, have a blast! They offer sensory events specifically designed for children with autism and special needs to enjoy time at the park without loud music and flashing lights- and to have a lot of fun!
AMC Theaters – Various locations in Indianapolis
AMC Theaters offers Sensory Friendly Films. They turn the lights up and the sound down, so you can feel free to be you at these unique showings for people living with autism or other special needs. 
Stony Creek Swim Center – Carmel, Geist, and Noblesville
Stony Creek Swim Center offers Special Abilities Swim Classes. They have USSSA-certified special-abilities instructors who have completed in-depth training. They are highly qualified to teach children with unique physical, emotional, and mental differences, including autism spectrum disorder. Classes meet for 30 minutes once a week.
Bankers Life Fieldhouse – Indianapolis
People with sensory sensitivities can enjoy watching a sporting event or concert at this Indy venue, which is certified as a sensory-inclusive space. Guests can check out a sensory bag at no cost, which includes noise-canceling headphones, fidget tools, verbal cue cards, and weighted lap pads.
Conner Prairie – Fishers
The second Sunday of every month is sensory-friendly at Conner Prairie. Exhibit components that make noise are turned off, all quiet spaces can be utilized, and staff trained in sensory-friendly practices are on hand in case anyone needs assistance. Also, check out Estridge Family Park, a fully inclusive playground on the grounds designed with guests of all abilities in mind.
Sensory rooms are an essential tool for parents of children with autism. They provide a safe and calming environment where children can regulate their emotions and learn. You can maximize the benefits of a sensory room or activity by incorporating activities tailored to your child's unique sensory processing needs.
Consider sensory exploration, integration, fine motor activities, sensory circuit training, and music therapy. With these activities and ABA Therapy, you will surely see your child grow and thrive. Circle City ABA's commitment to incorporating sensory activities underscores our dedication to providing holistic, personalized ABA Therapy to the autism community. For more information about Circle City ABA and our services or to schedule an appointment at one of our locations, please visit www.circlecityaba.com or contact our admissions team at (317) 426-1164.